Une carrière de fil en aiguille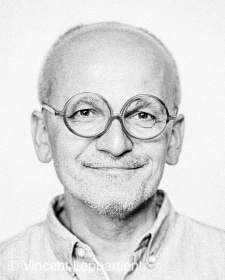 Frédéric Martin-Bernard grew up in a small village in the Vosges region at the gates of Gérardmer. His parents lived at number 1 on the factory road. And the factory at the end of the road was a manufacturing place for a famous house linen brand.
Graduating in 1992 with a degree from the Ecole Supérieure des Industries Textiles d'Epinal, he put the finishing touches on his formal education with fashion design classes in Paris. He practised this job for some time, while at the same time teaching sewing during several years.
At the same period of time, Frédéric Martin-Bernard was noticed by a professional newspaper thanks to his complete curriculum in textile and clothing. In the spring of 1997, he became a member of its editorial board, which was an ideal school to train for journalism. From 1999 on, he wrote articles as a freelance journalist for different magazines and newspapers, until he was hired by a famous French newspaper in June 2007.
Head of the mode department during twelve years, FMB wrote about current events in the luxury sector, keeping a special curiosity for various savoir-faires. He never refused to go on the field and visit a manufacturer. He liked to see what is hidden from view, discover how things are made and explain the transformation process from an original idea to a finished product – especially when it called on traditions and preserved professions.
His original passion for confection, cloths and fine linen never left him. Enriched with thirty years of experience, observation and analysis of the fashion and luxury worlds, Frédéric Martin-Bernard today returns somehow to his personal and professional roots by imagining a brand of home decoration, in parallel to his activity as a journalist.